Silent Unity is our worldwide prayer ministry.
Did you know that someone has been praying for others at Silent Unity for more than 130 years?
The Unity foundational belief is in the power of affirmative prayer. 
This 24/7 prayer ministry —which responds to prayer requests via telephone, postal mail, or online —serves people of all faiths from all parts of the world. 
Outside the U.S. there are prayer affiliates in Germany, New Zealand, Australia, France, Ghana, Great Britain, and Mexico.
How Silent Unity Began
The "Society of Silent Help" -- now known as the Unity Prayer Ministry, or Silent Unity -- was founded in downtown Kansas City, MO by the Fillmores in April of 1890. Silent Unity moved to its new home at Unity Village, Missouri, in 1929, where it is today.
In 1943, Charles Fillmore began offering a daily 11 a.m. prayer service. This was during World War I, when employees gathered to pray for peace. 
Today that weekday service is offered live, for all, on Facebook Live at 11 a.m. CT. 
Silent Unity director James Dillet Freeman led during WWII. It was during this time that the poet wrote the "Prayer for Protection" -- one of the world's most beloved prayers of faith and hope.
The light of God surrounds us;
The love of God enfolds us;
The power of God protects us;
The presence of God watches over us;
Wherever we are, God is!
Silent Unity hosts World Day of Prayer during the second week of September each year -- now offered virtually in order to share the message of hope, peace, and love to more.
In addition, the Unity team offers prayer and meditation resources in print, audio, and video to support you on your spiritual journey.
---
The Light of Silent Unity 
Silent Unity has been led over the years by May Rowland, John Strickland, James Dillet Freeman, Mary-Alice and Richard Jafolla, Lynne Brown, and Linda Martella-Whitsett.
With each evolution, the Silent Unity team has extending the light of Unity, evolving the way affirmative prayer is shared and understood in their time.
Through booklets, letters, phone calls, radio, television, video, web, and social media, Silent Unity as evolved to support the hearts and spirits of those who need it most -- one request at a time.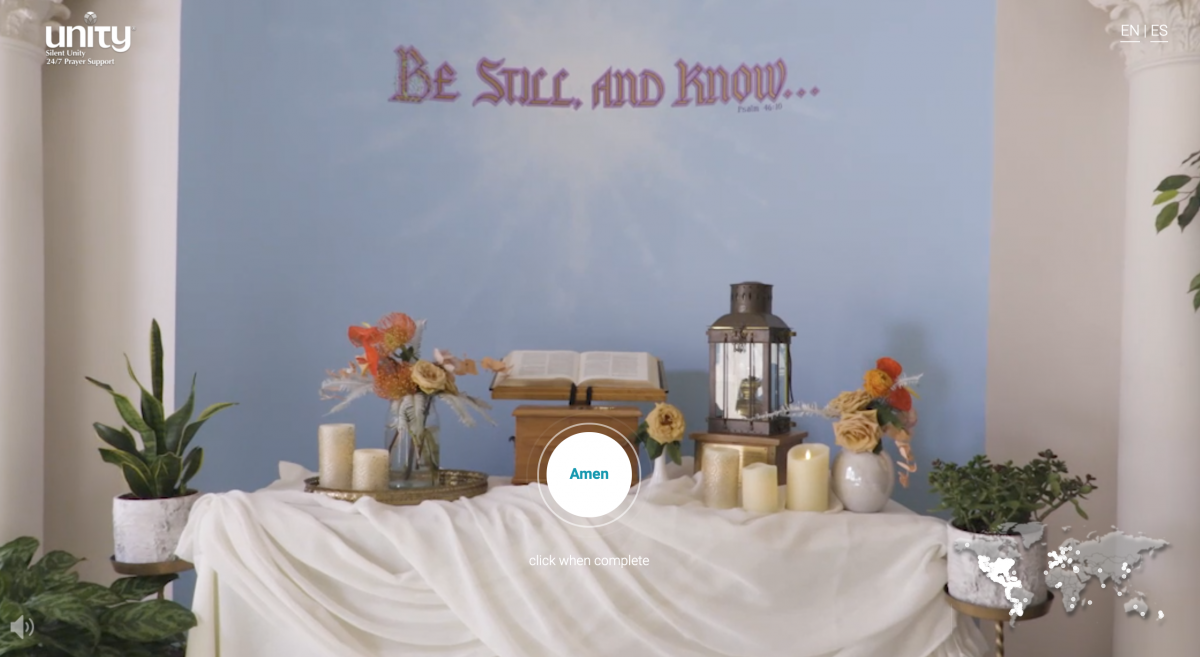 Now you can participate in the Silent Unity prayer vigil online: a sacred honor and part of the Unity mission. Inside the Silent Unity Virtual Prayer Vigil, your heart and consciousness join with others around the world.
Together, you become a part of our 24/7 prayer vigil, holding up all who ask for prayer.
---
Would you like to pray with Silent Unity? 
We hope you feel inspired to include affirmative prayer in your everyday life. Know that whenever you would like someone to pray with you, your Unity of Arlington team feel blessed to hear your prayer requests.
If you would like to speak with a Silent Unity prayer associate, you can do so online and also by phone:
816-969-2000
5 a.m. to 1 a.m. (CT)