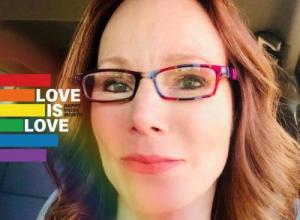 Rev. Anne Tabor
817-467-5151
---
Reverend Anne Tabor
Known for her love of all God's creatures great and small, Rev. Anne has been Senior Minister at Unity of Arlington since August 2015.
She is a passionate ambassador for the Unity movement.
Her personal mission is to:
"Inspire others to live the Truth they know by taking their divine talents and creative abilities out into the world to make it a better place to live, love, and thrive together."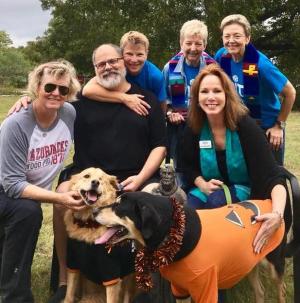 As a graduate of Unity Institute & Seminary, Anne holds a Master of Divinity and is a Licensed and Ordained Unity Minister. She also earned a B.A. in Journalism from Georgia State University.
While attending seminary, Anne was the Spiritual Leader of the Wednesday Evening Love Lift (known as "The W.E.L.L.") at Unity Temple on the Plaza in Kansas City where she and her husband, David Hart, offered weekly services. 
Anne is the creator of Daily Fillmore, where she has been sharing daily quotes inspired by our Unity co-founders, Charles and Myrtle Fillmore, on Facebook and Twitter since 2012. She reaches over 15,000 friends and followers each day.
She is also the founder of "Put A Myrtle On It!" -- a fun weekly program focused on sharing Myrtle Fillmore's seeds of truth and wisdom. You can view on Unity of Arlington's YouTube channel or join live stream on Facebook every Friday at 12 noon, CT.
---
Rev. Anne's Spiritual Support Offerings
Rev. Anne Tabor is available to provide spiritual counseling by appointment. This support is available on a love-offering basis. For more details about spiritual counseling at Unity of Arlington, please read this brochure.
In addition, Rev. Anne can help you uplift a special occasion. If you would like to discuss ministerial services for weddings, memorials, or blessings of any kind (for your children, home, or pets!) connect with Rev. Anne directly.
---
Life Before Unity
Before answering her call to ministry, Anne was a film and television producer living in Los Angeles, CA, where her primary focus was post-production while working in network television. A few of her credits include: Damages, The Twilight Zone, and Soul Food.
Born and raised in Atlanta, GA—Anne met her husband David Hart while working on the beloved southern TV series, In the Heat of the Night. An actor, David played the endearing role of Sgt. Parker Williams. Little did they know at the time that their friendly field trip to a Braves baseball game together would turn into a loving partnership of a lifetime. They've been married since 1998.

They have three wonderful grown children, seven amazing grandchildren, and way too many cats and dogs to mention… or admit to having!